The Chicago Cubs star's comments re-stoke a long-burning rivalry, and the St. Louis Cardinals react by upping the ante
The Chicago Cubs/St. Louis Cardinals rivalry is heated enough that it doesn't need any off-season juicing. But that didn't stop Kris Bryant and Ryan Dempster from stoking the fires at that most reliable of all outlets, the Cubs convention.
Guess what? It worked. Several Cardinals awoke from their January slumber to react.
Sadly, the schedule-maker isn't asking the teams to meet on the field until May…although based on the weekend dissing this would be an excellent time for some promoter to set up a winter pay-TV rumble.
Bryant and Dempster, a former Cubs pitcher, started it with what they presumably intended to be a light-hearted airing of the rivalry during the Cubs winter convention this weekend in Chicago. Bryant dismissed the idea of ever playing in St. Louis, describing the city and ballpark as "boring." He asked the Cubs crowd, "who would ever want to play in St. Louis?" and got the predictable response.
Dempster chimed in that, when approached by his agent about signing with St. Louis as a free agent, he had replied, "zero chance in hell."
More from Call to the Pen
The news that Cubs and Cardinals players and fans don't necessarily like each other hardly needed ratifying in Chicago. Still, it seemed to catch the Cardinals off-guard. Several reacted to the insults as if they were made by their erstwhile besties.
Cardinals catcher Yadier Molina said "only stupid players and losers make comments like the ones by Bryant and Dempster." On Instagram, he said "all-stars, elite players and leaders of their team do not speak bad about any city."
Cardinals Marcel Ozuna and John Brebbia also reacted. "From outside, they speak and talk like a tiger, but at the end they're gonna be like a little cat," Ozuna said metaphorically. Taking part in a Cardinals caravan in downstate Illinois, Brebbia dismissed Bryant's remarks, saying "Cry me a river, loser." Unlike his teammates, Brebbia later issued a statement saying he intended his remarks to be taken in jest, too.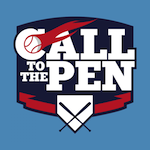 Want your voice heard? Join the Call To The Pen team!
Molina is developing a winter track record of being irked by the musing of one Cub or another. Last winter he took umbrage at Chicago Cubs catcher Wilson Contreras telling reporters that Contreras intended to surpass Molina as the game's best catcher in 2018. Contreras actually beat out Molina in the All-Star game voting but slumped badly during the season's second half.