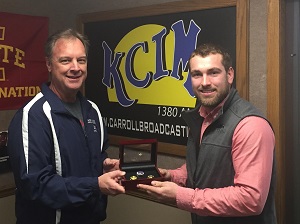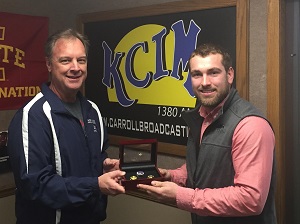 Pictured: KCIM Program Director, John Ryan, presents the replica rings from the Chicago Cubs 1907, 1908 and 2016 World Series titles to Tage Henkelman.
On Thursday morning, KCIM auctioned replica rings from the Chicago Cubs' three World Series titles to benefit cancer patients though St. Anthony Regional Hospital's Friendship Fund. Jane Siegler, an avid Cubs fan, donated the three pieces to be auctioned off, with the proceeds to be used to purchase gas cards for patients traveling to and from treatments. Tage Henkelman, the auction winner, says he and a group of people from Joe's Welding in Denison had their hearts set on getting the 1907, 1908 and 2016 replica rings and originally planned to pool their money together to get the rings back to Siegler.
They were determined to be the top bidders in the auction, and he says they asked others if they wanted to be a part of the effort.
Their final bid came in at $1,650. Henkelman says his brother, Adam, will be thrilled when he finally gets his hands on the rings and adds knowing the money used to purchase them will go to help ease the financial burden cancer can cause just adds to their excitement.
Employees at St. Anthony Regional Hospital started the Friendship Fund about three years ago and accept donations year-round. Gifts can be sent using the address included with this story on our website.
______
Donations: St. Anthony Friendship Fund
C/O St. Anthony Foundation
P.O. Box 628