The Chicago Cubs' season came to an abrupt end this week when they lost the National League Wild Card Game against the Colorado Rockies, but their prospects still have a bit of work to do in this season's Arizona Fall League.
The Cubs will be sending nine of their best prospects to Arizona to play for the Mesa Solar Sox, who lost in the championship game of the league last year.
RHP Bailey Clark
Clark made his way through Single-A this season, registering a 1.89 ERA and a 4-2 record in three different minor league stops along the way.
Clark made five starts in the minor leagues and 16 relief appearances, and the 2016 fifth-round pick is one of four Cubs pitchers making the trip out to Arizona.
2B Trent Giambrone
While Mesa teammate Nico Hoerner will get plenty of headlines, the talented Giambrone will look to show that he is another up-and-coming infielder in the Cubs' system.
Giambrone spent his 2018 season with Double-A Tennessee, batting .251 with 17 home runs and 49 RBI for the Smokies. His on-base percentage of .333 needs some work, but his ability to hit for power certainly has the Cubs' attention.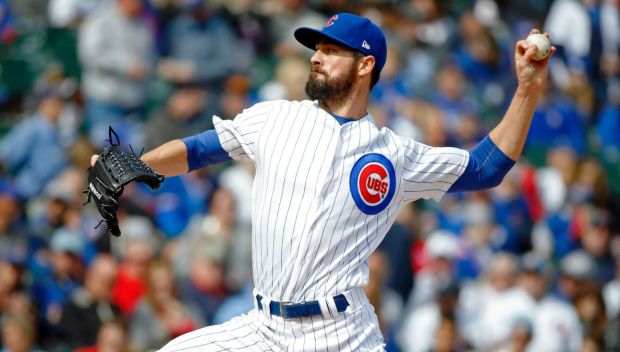 Hamels, Murphy Among Potential Free Agents for Cubs
C PJ Higgins
One of two Cubs' backstops to be named to the team, Higgins has been in the team's farm system since 2015 and bounced between Single-A and Double-A last season. He posted a .271 batting average with 22 doubles and 52 RBI on the year, but struck out quite a bit, fanning 67 times in 377 at-bats.
SS Nico Hoerner
Drafted in the first round of June's draft by the Cubs, Hoerner immediately made a big impression, racking up 16 hits in just 14 minor league games. He had a sparkling 1.021 in an extremely-limited sample size, but the Stanford product could be a force to be reckoned with in the Cubs' system within the next two years.
RHP Erick Leal
Another pitcher who was used as a starter and reliever this season, Leal had a solid season with Single-A Myrtle Beach, posting a 1.41 ERA in 21 appearances. He struck out 61 batters in 63.2 innings, and is beginning to find his form again after undergoing Tommy John surgery that cost him his 2017 season.
C Jhonny Pereda
The 22-year-old racked up almost 500 plate appearances in Myrtle Beach this season, hitting eight home runs and driving in 57 RBI for the Pelicans. He sported a solid on-base percentage of .347, and with the Cubs' dearth of catching prospects, he could really turn some heads with a strong AFL campaign.
LHP Manuel Rondon
Rondon made 28 appearances in Single-A this season, with a 3-5 record and a 2.65 ERA in stops in Myrtle Beach and South Bend. He made the switch from the starting rotation to the bullpen, and looked good doing it, striking out 62 batters in just 51 innings and increasing his strikeout-per-nine innings rate by three batters per game.
LHP Justin Steele
Although he doesn't quite live up to the name Rock Shoulders in the annals of well-named Cubs prospects, Steele holds his own on the mound, posting a 2.89 ERA in 11 outings this past season.
He posted his best strikeout-per-nine innings rate since 2014, fanning 10.2 batters per nine, and he also lowered his walk rate, giving fans a good reason to keep an eye on how he performs this fall in Arizona.
OF DJ Wilson
Wilson has plenty of work to do if he's going to climb the Cubs' prospect ranks, as he managed one home run and 13 RBI in 272 plate appearances. He did draw 32 walks and stole 10 bases, but he struck out 71 times.